Case Study: Develop a Guitar and Ukulele Elective for High School
Guitar and ukulele engage a wider range of students in the joys and benefits of making music.
Curricular guitar and ukulele courses have gained traction in both elementary and secondary education, and for good reason! Traditional ensembles (band, orchestra and choir) still play a vital role in music education, but guitar and ukulele instruction help us engage a wider range of students in the joys and benefits of making music.
Additionally, the instruments are fairly affordable and can be used to easily connect our students to music that is more relevant to them.
I hope the story about our guitar and ukulele elective at Springfield High School can help you develop a similar program at your school.
Developing the Course
Although I developed the curriculum and premiered this course at Springfield High, I cannot take credit for introducing the idea or getting it approved. My predecessor, Kevin Cooper, and my colleague, Mike Zubert, were inspired by the success of guitar courses at a local district, and they worked together to develop the concept of a guitar and ukulele class.
A proposal of the course was given to the building principal at the time, Dr. Joseph Hepp, a multi-instrumentalist in his own right, and reviewed by our district curriculum coordinators. After they approved it, the elective was added to the course offerings during course selection.
I realize that not everyone who presents such an idea to their administration will receive the type of initial interest and support that we were lucky enough to get. I encourage you to talk with your building administration about the formal process for introducing a new course. In some districts it may be as simple as getting building approval, where others may require it to be heard by the school board or a school board curriculum committee. Be patient! Sometimes these processes can take months or years.
When presenting the idea for the course, I recommend having answers to the following questions (I have provided some sample answers to help):
Why is guitar and ukulele instruction important to your curriculum, students and school?

Guitar and Ukulele instruction will help us engage a wider range of students in music learning and performance beyond our traditional ensembles. With so much relevant content and easily accessible instruments, a guitar and ukulele course can help us create a more inclusive music learning environment. Students will leave the class with a musical skillset that enables them to continue to play and perform beyond high school, leading to a more fulfilling life.

How will the class fit into the current schedule? Does it replace another elective? Will you need additional staffing to cover the elective?

This class will replace our music appreciation class, which has seen declining enrollment over the past four years. It can fit into the same period slots as that elective and will not need additional staffing as the same teachers are certified to teach this new course.

What type of supplies (instruments) will you need? How much will they cost? How will they be paid for?

Depending on how we structure the class, we can buy about 30 high-quality student level guitars for $6,600 or ukuleles for $3,300. We would also need to purchase some textbooks, which will cost approximately $350 total. We were hoping to split the cost between our department budget, building budget and curriculum budget.
It was predetermined that this course would be a one-semester (half-credit) elective for beginning guitar/ukulele players, available to any student in grades 9-12. Like all classes in the building, the class runs for approximately 50 minutes every day. The course is restricted to 24 seats per section.  Our first year we ran 2 sections and we are now running 4 sections yearly.
Curriculum and Instruction
Once the course was approved, I began to write and design the curriculum as well as a scope and sequence for the course. I decided that students would spend half of the semester on ukulele and then transition to guitar. I wanted all my students to walk away with a skillset where they could continue learning, playing and enjoying music on guitar and ukulele beyond the class. Thanks to discussions and input from my colleagues, I determined that I wanted students to be able to meet two primary goals:
Read and play simple melodies using "traditional" notation.
Perform common harmonies and harmonic progressions from various types of notation (such as chord charts, tab, etc.) and by rote.
Teaching students to read traditional notation is greatly valued within our music department. Additionally, I knew that providing students with basic music literacy and theory skills would allow them to engage in a wider range of music enjoyment beyond high school. My goal in designing this specific element of the curriculum was for students to use these skills in music reading or singing at civic events, at places of worship and socially, as well as in career settings like early childhood education.
In order to develop students' technique and musical literacy skills, I investigated various method books. After talking with several music educators who teach individual or group guitar/ukulele instruction, I settled on the "Alfred's Basic Guitar Method" book series. The text effectively sequences the technique and music literacy through original, classical and folk melodies. Additionally, I liked that the book has a nearly equivalent version for ukulele that would allow for a smooth transition between quarters.
Daily class time is allotted for students to practice these exercises and receive direct feedback from me as I float around the classroom. Students then either perform the selection individually in class or record it into our learning management system for assessment. The class is designed so students complete about three to five melodies a week.
Although I have used the Alfred text since beginning the course, there are many other great options to use for teaching both traditional notation, as well as tablature, and harmony that may better suit your program. Some popular ones are the "Master the Ukulele," "Hal Leonard Ukulele Method Book," "Hal Leonard Guitar Method Book," "Mel Bay's Complete Method for Modern Guitar" and "First Year Guitar: Hands-on Training."  Talk to local guitar/ukulele teachers about what they use.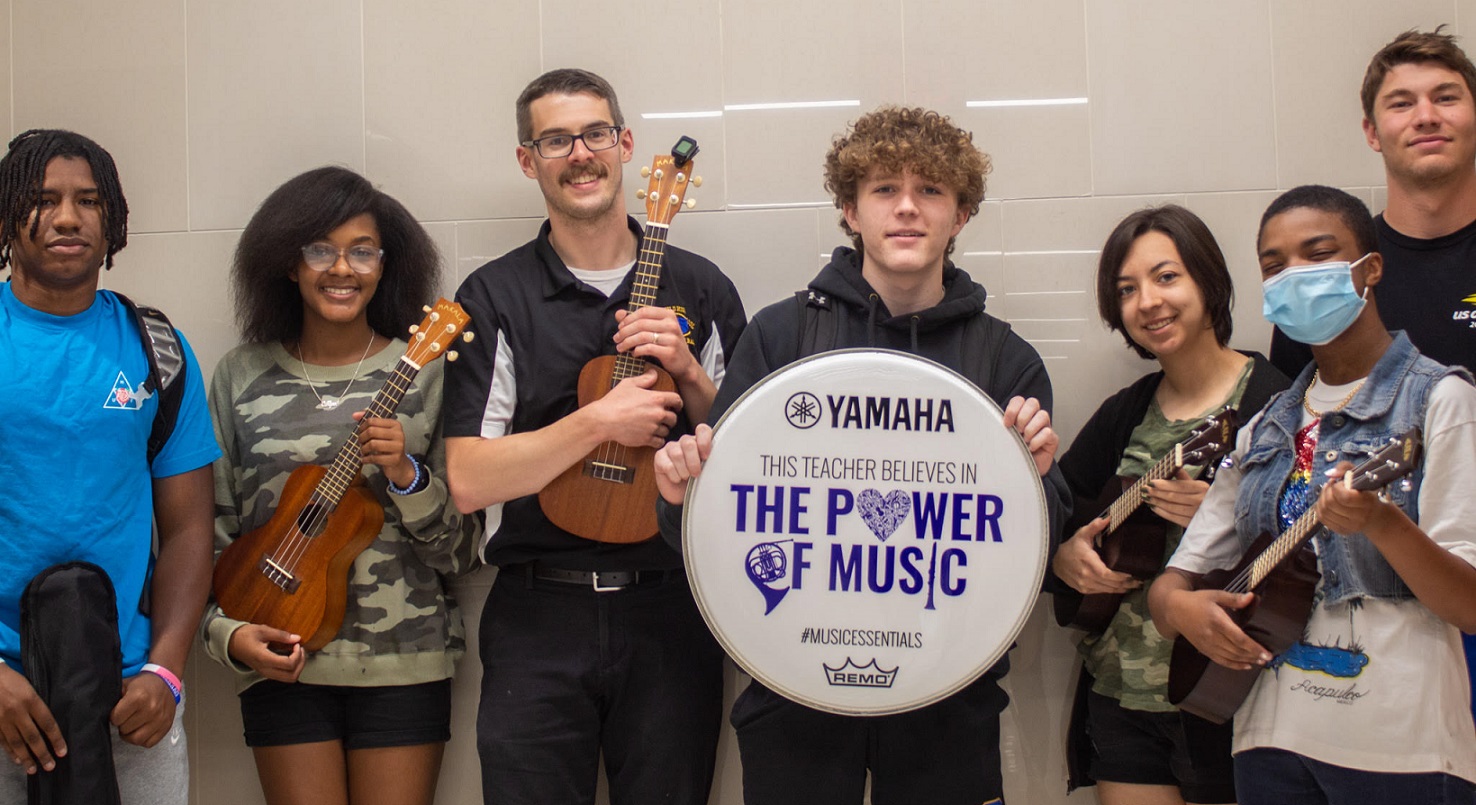 When it came to teaching common harmonies and progressions on the instrument, it was more difficult to find text and resources that met the needs of the class. While there are several popular methods for teaching harmony, few would effectively work for guitar and ukulele. For this reason, I ended up creating most of my own original resources (slideshows and handouts) to teach harmonies and chords with the aid of online resources such as UltimateGuitar.com, Fender Play and the many channels on youtube.com, including Marty Music, Swift Lessons, Guitar Lessons 365, The Ukulele Teacher and Ukulele Cheats.
I designed this portion of the course so students could learn common progressions, such as the blues, and chords (I, IV, V, ii, vi) in common keys (C, G, D, A, E). I picked an appropriately challenging selection in each key that could act as a vehicle for learning these chords and progressions. When students switch instruments after the first quarter, they relearn the previous selection in that key and also learn a new, slightly more challenging one. The blues progression is particularly enjoyable as students get to learn about the history of the blues and even write and harmonize along with an original blues composition!
As I developed this curriculum, I consistently referred back to my state learning standards as well as the NAFME standards for harmonizing instruments to make sure my curriculum aligned.
THE YAMAHA EDUCATOR NEWSLETTER: Sign up to receive real-world advice, tips and instrument guides!
Securing Instruments
Along with the curricular support for the class, our district supported the purchase of a set of guitars and ukuleles through building and curriculum budgets. As the program expanded, we were able to use a combination of our department budget and curriculum budget to expand our inventory. Every student is assigned a guitar and ukulele during the course that they can use in class and take home as needed. If you are unable to secure a district budget funding source, I highly encourage looking into other options. It's possible that districts may be able to use Title 1 or Title IV-A federal funds to secure instruments if the program meets the requirements. Right now, districts may also be able to use ESSER funds to expand music programing, depending on how they wrote their ESSER funding plan.
I know several educators who have been able to secure ukuleles and guitars using federal funds over the past several years. Plenty of resources about the funds and music education are available online, especially through the National Association for Music Education (NAfME). Along with these federal funding sources you can also investigate local grants or crowdfunding. In our district, we have an education foundation, The Springfield Area Education Foundation, that can issue grants to make purchases for classroom sets of instruments.
Reception
This guitar and ukulele elective has become extremely popular in our building! Last year, we ran six sections of the course taught by one other teacher and me and engaged approximately students in meaningful music making! One of the most surprising and rewarding pieces of feedback I received from students is how much they value being able to learn traditional music notation in high school!
Many students purchased their own guitar or ukulele at the end of the course and came back to show me what they have been learning or working on! I have even had several staff members and administrators talk with me about purchasing a guitar and ukulele for themselves. Several have even joined us in class!
If you have questions about starting your own guitar and ukulele program or would like to learn more about Springfield's elective, please reach out to me at mark.stanford@ssdcougars.org.