By now we all know Alexa, Amazon's cloud-based voice service that controls many smart home devices. Having an Alexa built-in device like the Yamaha YAS-109, YAS-209 or ATS-2090 sound bar makes controlling your home entertainment system more convenient than ever.
Setting up the YAS-109 / YAS-209 / ATS-2090 is a breeze. Once it's connected to your Wi-Fi network, all it takes is a few taps in the Yamaha Sound Bar Controller app to connect Alexa — no need to set up any other devices on your network.
Once that's done, you can control your sound bar by asking Alexa to turn the volume up and down, like this:
"Alexa, volume up."
These sound bars have a handy ducking feature, too, which means that when you say the Alexa wake word, the volume will lower ("duck") automatically so that Alexa can hear your command more clearly. What's more, forward-facing microphones ignore sound that might be bouncing off your TV wall, making it easier for Alexa to hear you. You can also activate Alexa by pressing the Alexa button in the upper left-hand corner of the sound bar's remote control, as shown in the illustration below: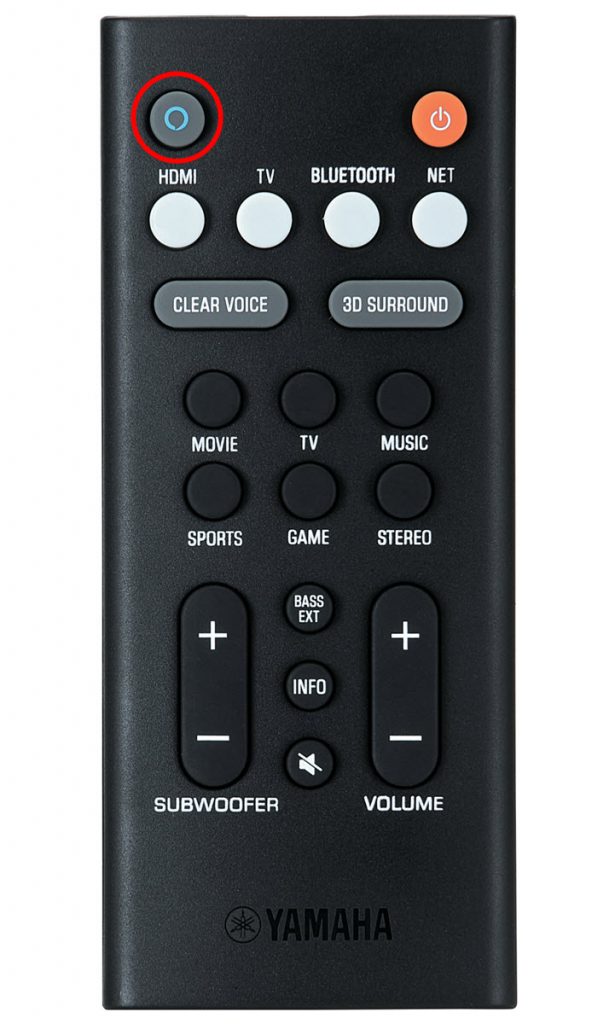 And here's where Alexa really ups her game, because she can also control Fire TV through your sound bar. After linking your sound bar and your Fire TV in your Alexa app, simply say something like this:
"Alexa, play District 9"
and Alexa will find the movie title on Fire TV. If you say a TV series, Alexa will show the last episode you watched or the first episode of the first season if you haven't watched the series before. No more hunting for the remote control between the couch cushions! Search for your favorite shows and movies or discover new content simply by asking Alexa.
Alexa built-in is a great way to listen to music too. You don't even have to bother with connecting your phone to your sound bar via Bluetooth. Just say:
"Alexa, play Old Town Road"
Alexa accesses Amazon Prime Music's over two million songs by default, or up to 60 million songs with Amazon Music Unlimited if you are a subscriber. (You can change the default music service in the Alexa app.) Explore new music and let Alexa get to know you with commands like these:
"Alexa, play some country music"
"Alexa, I like this one"
"Alexa, who sings this?"
"Alexa, play more like this"
Of course, you can control playback with the usual play, pause and skip commands.
You can also ask Alexa to do those basic things that we've come to depend on, such as:
– Create lists, reminders and timers
– Report the weather or the news
– Shop
Alexa built-in is always improving, with new commands added through updates to the Sound Bar Controller app. Make sure the app is always up-to-date by opening it often!
If you have a MusicCast sound bar or receiver, like the MusicCast BAR 400 or an AVENTAGE receiver, you can do even more with an external Alexa device like an Echo or Dot. Click here for more information.