Yamaha NX Series nylon-string acoustic-electric guitars combine the latest in modern technology with traditional build and look. The various models differ in terms of body size and neck width, as well as the tonewoods and electronics used, but they all sound great whether played acoustically or connected to an amp. In this article, we'll take an up-close look at the technical innovations that make these instruments unique.
Atmosfeel™
The NCX5, NCX3, NTX5 and NTX3 models come equipped with the proprietary Yamaha Atmosfeel pickup and preamp system, which takes the best elements of a piezo pickup and a microphone and combines them with an ultra-thin synthetic sheet transducer.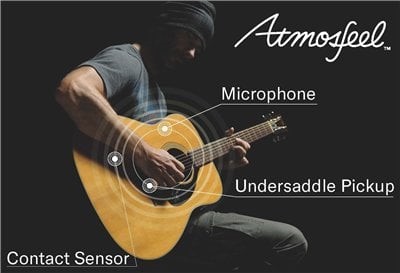 This sheet transducer contact sensor, located below the saddle, is responsible for the higher-end treble frequencies and soundboard vibrations. The piezo pickup is equipped with individual string sensors and is located where the strings meet the bridge. It's designed to reduce the harsh high frequencies often associated with this type of pickup — in essence, it captures only the guitar's mid and low frequencies. Finally, the mini-microphone, mounted just inside the body near the left upper bout, provides additional low and midrange frequencies. When these three elements are combined, the full frequency range of the guitar is reproduced in all its glory.
The entire Atmosfeel system is controlled from a simple three-knob panel mounted on the left side of the guitar so it's easily accessible when you're playing the instrument. These allow you to adjust Master Volume, Treble EQ and Mic Blend.
Master Volume, as you might expect, sets the overall output of the system, while Treble EQ cuts or boosts high frequencies using a peaking filter. Mic Blend determines the amount of mic signal. When turned fully counterclockwise, you'll hear a premixed blend of the transducer and piezo pickup. When turned fully counterclockwise, 50% of the mic signal is added to the mix. While these guitars sound quite natural with the piezo pickup and sensor alone, the mic signal adds a whole new dimension of clarity and width. Together, this trio of controls provides a broad range of tonalities and sonic options.
In addition to being useful when recording in the studio or practicing through an amp at home, the Atmosfeel system provides excellent onstage sound with reduced potential for feedback.
Signature Bracing
As described in our "Step Up to a Better Acoustic Guitar" blog, the internal design of guitar bodies — their bracing in particular — impacts how the sound from the strings resonates through the instrument's body and therefore has a significant effect on the tone. To increase the low frequency response of NX Series nylon-string guitars without sacrificing durability, Yamaha engineers made several refinements to their inside bracing, using precise measurements and experimentation to refine the natural characteristics of the tonewoods used in the construction of the instruments.
A.R.E.
With over 100 years of piano-making and decades of acoustic guitar design, you might expect that the engineers at Yamaha possess exceptional woodworking skills, and you'd be right. The A.R.E. (short for "Acoustic Resonant Enhancement") technology used in NCX2000R and NCX2000FM nylon-string guitars is a patented, non-chemical process that uses controlled temperature, humidity and pressure to alter the structure of wood all the way down to a subcellular level. This helps the wood sound like it's many years older than it is … and when it comes to guitars made of choice tonewoods, that's a good thing!
This treatment is applied to wood panels that are carefully dried and cut before they are incorporated into guitars, helping to improve sound transmission and resonance, and allowing the wood to vibrate more easily. A new guitar with A.R.E treatment resonates more like that of a vintage instrument that has been played for many years. That adds up to sparkle in the highs, depth in the mids and extra response in the lows, which, simply put, makes for a better-sounding nylon-string guitar with greater tonal richness and extra sound projection.
The advanced technology incorporated into Yamaha NX Series nylon-string guitars allows them to meet any challenge, whether they're played subtly in a carefully controlled studio environment or onstage at full performance level. Try one out and see for yourself!
Check out these related blog articles:
Step Up to a Better Acoustic Guitar
Atmosfeel: The Next Generation of Yamaha Acoustic Guitar Pickups
Atmosfeel Technology Comes to the Nylon-String Guitar
A Quick Guide to Yamaha Acoustic Guitar Pickup Technology
Tips for Playing Nylon-String Guitar
Click here for more information about Yamaha NX Series nylon-string guitars.