When the HDMI® 1.4 spec was introduced back in 2009, it included a new protocol designed to significantly improve the audio experience for television viewing: ARC, which stands for Audio Return Channel.
HDMI ARC makes it possible to simplify your TV setup while improving your ability to configure and control your system. Ready to learn more? Read on …
ARC Basics and Benefits
To make an ARC connection, simply plug an HDMI cable into the dedicated ARC jacks on both devices. As shown below, these are usually clearly labeled:
One of the key benefits of ARC is that it supports bi-directional audio through a single HDMI cable. That means the audio can travel both "downstream" (from your TV to your sound bar or AV receiver) and "upstream" (from the sound bar or AV receiver back to the TV), assuming all components are ARC compatible. As a result, you have a variety of options for interconnecting the various devices you're using.
Another benefit is fewer cables, since you don't need to use a separate optical cable to send audio from your TV to your sound bar or receiver. With ARC, a single HDMI cable carries both audio and video.
As an example, let's say your home audio setup consists of a smart TV, a Blu-ray player, a game console and an ARC-capable sound bar such as the Yamaha SR-C30A, SR-C20A, SR-B20A, YAS-109 or YAS-209. As shown in the illustration below, simply use HDMI cables to connect the Blu-ray player and game console to the TV. With this configuration, the HDMI ARC connection will carry all the audio from your devices to your sound bar, plus you'll also be able to control all the source-switching from your TV's remote.
You can use the remote for even more functions by engaging an HDMI feature usually called Consumer Electronics Control (CEC), though different manufacturers refer to it by a variety of names. This allows you to use a single remote to control power on/off, audio level and other essential functions of any ARC-connected devices. So, with HDMI ARC, not only will you have less cables, but fewer remotes to deal with.
However, the CEC feature isn't necessarily plug and play. You typically must go into your TV's settings to activate it. Not all remotes or TVs offer this feature, so make sure the one you have (or are considering buying) does.
Extra Flexibility
ARC's two-way audio capability gives you additional setup flexibility. For example, you could use your sound bar as a hub — as long as it supports ARC and has multiple HDMI inputs.
To do that, you'd connect the TV to the sound bar using ARC and plug any game controllers and Blu-ray players to the HDMI inputs on the sound bar. Now, you'll not only have audio going from the TV to the sound bar, but video from the game controller and Blu-ray player getting passed through from the sound bar to the TV: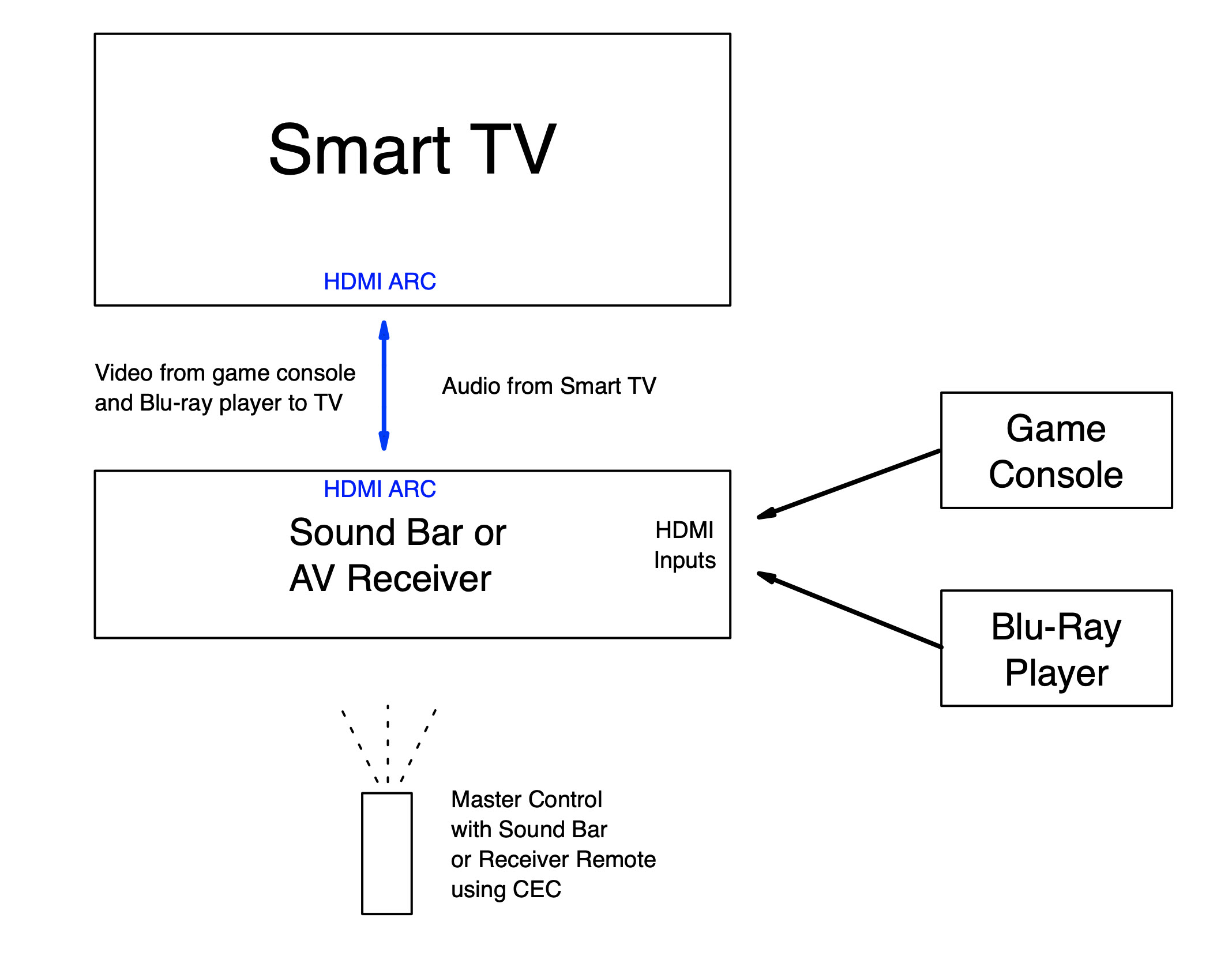 This kind of setup can be really helpful, particularly if you have a wall-mounted TV where connected HDMI cables are run through holes drilled in the wall.
Yet another alternative setup is possible if your home setup includes an AV receiver that supports ARC, such as the Yamaha RX-V6A. You could use the receiver as the hub, connecting it to the TV through ARC with one HDMI cable and plugging Blu-ray players or game consoles into the receiver using HDMI. In case you're wondering, ARC doesn't have anything to do with the functioning of Blu-ray players and game consoles, so there's no need to worry about their compatibility.
ARC vs. Optical
Even if you're happy with using an optical (TOSLINK) cable rather than ARC for sending audio from the TV to your sound bar or receiver, it's worth comparing the two. You might change your mind.
Both formats are superior in sound quality to analog (RCA cables). Both can handle compressed, multichannel audio up to 5.1, and neither can handle 7.1 audio, although an advanced version of ARC called eARC can. (More on this later.)
Optical cables have better shielding than HDMI and are therefore less susceptible to interference. However, ARC is superior to optical when it comes to bandwidth — that is, the amount of data it can handle at a given time. As a result, it's able to support a couple of Blu-ray formats (specifically, Dolby® TrueHD and DTS-HD Master Audio™) that optical can't.
One downside to ARC is that audio coming from a set-top box or other peripherals can sometimes get slightly delayed, which can cause annoying lip-syncing issues. Also, if your system requires cable runs of over 15 feet, you may have signal loss problems with HDMI.
Hop Aboard the eArc
HDMI 2.1, announced in 2018, brought a significant improvement to the ARC standard. It's called eARC (the "e" stands for "enhanced"), and it has more robust capabilities than the original ARC.
If you have an HDMI 2.1-compatible TV and audio device (for example, a Yamaha RX-V6A AV receiver), you can take advantage of more powerful audio formats. That's because eARC supports uncompressed 192kHz/24-bit audio, along with 5.1- and 7.1-channel uncompressed audio. It also supports several compressed formats, including DTS-HD Master Audio, DTS:X®, Dolby TrueHD and Dolby Atmos®.
Another advantage to eARC is that it includes lip-sync compensation, which takes care of the sync issues you may encounter when using ARC.
It's worth noting that, to enjoy the full feature-set of eARC and HDMI 2.1, you'll want to purchase new Ultra-High-Speed HDMI cables. HDMI 2.1 and eARC are backward-compatible, so you can use your old cables but won't reap all the benefits of the latest technology.
Ready to Use
Manufacturers have included ARC on HDMI TVs and audio devices for quite a few years now, so most likely, your gear is compatible. To find out, just look for the word "ARC" on one of the HDMI ports on your TV and sound bar or AV receiver.
If you're purchasing new gear for your home theater, be sure to look for HDMI 2.1-capable products. They'll allow you to utilize eARC technology, which can significantly raise the multichannel audio capabilities in your home theater.
Check out these related blog articles:
HDMI 2.1: What It Means for Gear and Gamers
There's a Sound Bar for Every Space and Budget
Virtual Surround Sound and Yamaha Sound Bars
Click here for more information about the Yamaha SR-C20A sound bar.
Click here for more information about the Yamaha SR-B20A sound bar.
Click here for more information about the Yamaha YAS-109 sound bar.
Click here for more information about the Yamaha YAS-209 sound bar.
Click here for more information about the Yamaha RX-V6A AV receiver.