In the 10th century, a Scandinavian king overcame religious differences and territorial strife to unify all the warring factions in Denmark. What, you may ask, does that have to do with modern wireless connectivity?
Well, some historians believe this particular king had a dead tooth, and centuries later — 1994, to be precise — King Harald "Bluetooth" would become the inspiration for the name of Swedish telecom giant Ericsson's new communication standard that aimed to unite laptops and cell phones from different manufacturers. In fact, the Danish runes for Harald's initials, HB, form the Bluetooth logo.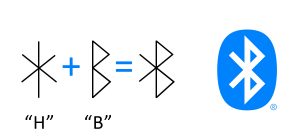 Bluetooth
Bluetooth was originally designed for short-range low-power communication, like that used in the first consumer Bluetooth device, a hands-free headset sold in 1999. For its time, it was quite revolutionary, but there were some limitations on audio quality and occasional dropouts.
Since 1999, both the world and our communication requirements have changed dramatically. We now expect our wireless devices to operate almost as seamlessly as our wired ones, so we can watch movies, listen to music, and game anywhere, which usually involves streaming media. Streaming media requires codecs— encoder/decoder technologies that compress files being sent and decompress them on the receiving end. Codecs have been developed for specific file types, including data, still images, audio and video.
aptX
The aptX codec, which Qualcomm® owns today, originally focused on compression for wideband stereo audio in entertainment industry applications. In the 1990s, aptX was used for the audio portion of many of director Stephen Spielberg's biggest hit movies, including Jurassic Park. Today, it's used in popular cell phones like Samsung® Galaxy® models, as well as in wireless speakers and headphones, including the Yamaha TW-E7A, TW-E5A and TW-E3A. aptX's fixed compression ratio and rigorous interoperability testing ensures consistent audio quality across devices.
aptX HD
In 2016, Qualcomm introduced aptX HD, the codec that finally brought high-definition quality to Bluetooth audio. In addition to support for 24-bit audio, aptX HD improved the signal-to-noise ratio, resulting in lower background noise, and also reduced total harmonic distortion for minimal interference. You can experience aptX HD in Yamaha YH-E500A and EP-E50A wireless headphones and earphones, both of which also support aptX.
aptX Adaptive
Qualcomm's latest codec, aptX Adaptive, meets modern expectations for viewing movies, listening to music and gaming anywhere. In addition to providing the same high-resolution audio as aptX HD, aptX Adaptive features a dynamic low-latency mode for reduced lip sync issues while gaming, along with adaptive bit rate for glitch-free audio. aptX Adaptive is featured in Yamaha YH-E700A and EP-E70A wireless headphones and earphones, both of which also support aptX HD and the original aptX.
Here's a summary of the specifications for each aptX version:

| | | | |
| --- | --- | --- | --- |
| Parameter | aptX Adaptive | aptX HD | aptX |
| Word Depth | 24-bit | 24-bit | 16-bit |
| Bit Rate | Adjustable from 276 – 420 kbps | 570 kpbs | 384 kbps @ 48 kHz sampling frequency 325 kbps @ 44.1 kHz sampling frequency |
| Variable Bit Rate | Yes | No | No |
| Total Harmonic Distortion + Noise @ 1 kHz | -100 dB @ 420 kbps -90 dB @ 276 kbps | -90 dB | -85 dB |
| Signal-to-noise ratio @ 1 kHz | 135 dB @ 420 kbps 130 dB @ 276 kbps | 129 dB | 93 dB |
| Frequency response over Bluetooth | 20 Hz – 22.7 kHz | 20 Hz – 22.7 kHz | 20 Hz – 22.7 kHz |
Qualcomm's aptX, aptX HD and aptX Adaptive codecs successfully address some of the historic shortcomings of Bluetooth by greatly improving audio quality and providing a better listening experience, with fewer dropouts and significantly reduced lip sync issues.
Note: In order to enjoy the benefits of any codec, the source device must also be compatible with that codec. Check the compatibility of your source device here.
Check out these related blog articles:
Yamaha Headphones Technology Spotlight: Listening Care
Yamaha Headphones Technology Spotlight: Advanced ANC
Yamaha Headphones Technology Spotlight: Listening Optimizer
Yamaha Headphones Technology Spotlight: Ambient Sound
How to Burn-in Headphones and Earbuds
Click here to learn more about Yamaha wireless headphones.