Drum shells are constructed from a variety of materials, but wood is by far the most popular. Wood is strong, stable, easy to work with, produces a good sound and can be manufactured in a variety of eye-catching finishes. What's more, different types of wood contribute different tonal characteristics to a drum, such as:
Warmth: A mellow tone comprised mostly of mid-range frequencies
Attack: The amount of clarity and articulation that is present in each stroke
Sustain: The length of time during which the sound of the drums resonates before decaying
Projection: The level of power and volume that is created
Low end: The amount of low-end frequencies the drum produces
Sensitivity: How quickly and accurately sound is produced when the drum is struck
Yamaha began making drums in the late 1960s using birch and mahogany. According to Daryl Anderson (Senior Designer, Drums), those tonewoods were selected not only because they were structurally sound, but because they had a tonality that worked well for the music of that era. "The changes in construction of Yamaha drums in the decades since are reflections of what was happening in the music scene," he explains. As an example, Anderson cites the Yamaha Recording Custom Series introduced in 1975 (originally named the 9000 Series), which were the first 100% birch drums available. "Their sound was characteristic of the music of the time," he says, "with a cutting attack and deep low frequencies. As music evolves, we react in the way we create new instruments." (Here's what a YD9000 Recording Series drum kit sounds like).
Let's take a look at the various tonewoods commonly used to construct drum shells.
Birch
Birch is a durable hardwood that has long been popular for use in drum shells because it's easily pliable and grows plentifully throughout the Northern Hemisphere. It's a strong, medium-weight wood that usually has a straight grain pattern; although sometimes, the grain can appear curly. Birch typically has a white color that takes stain well and can develop an attractive yellow tint as it ages.
The North American birch used to make Yamaha Recording Custom Series drum shells reduces unwanted overtones while producing a powerful, bright sound that cuts through the densest instrumentation, with excellent low-end boom. Here's Yamaha artist Larnell Lewis playing a Recording Custom kit.
Chinese birch, used in Yamaha Stage Custom Birch Series drums, needs a slightly warmer climate, so the wood grows a little faster and is a little softer than the North American variety. It produces a balanced tone across the entire frequency range with plenty of bite for a more "vintage" sound. Here's what a Stage Custom Birch snare drum sounds like.
Maple
North American maple is a very strong hardwood that grows plentifully in the Northeastern United States and Canada. It's durable and dense, with a light cream color and a smooth grain pattern that looks great when stained.
Maple has been a mainstay of drum shells for many years due to its crisp tonality, balanced mids and highs, and slightly warm low end. The shells used for Yamaha Absolute Hybrid Maple Series drums consist of three plies of maple on each side of a single ply of wenge (see below), which makes for a rich, powerful sound with excellent sensitivity, projection and sustain. Here's Wale Adeyemi playing an Absolute Hybrid Maple drum kit.
North American and European maple shells give Yamaha Tour Custom Series drums a refined tone with quick response, excellent sustain and a focused low end, making them suitable for any musical style. Here's Yamaha artist Larnell Lewis playing a Tour Custom Maple kit.
Oak
Oak is an extremely durable, dense hardwood that thrives in the Northern Hemisphere. It's strong and heavy, with a characteristic deep grain that's easy to recognize. What's more, oak stains very well, enabling it to take on colors ranging from light beige to a dark walnut.
Oak drum shells yield a very low fundamental tone (the basic pitch of the drum) for a focused sound, along with a solid midrange and bright, cutting highs, as well as excellent projection. Yamaha Live Custom Hybrid Oak Series drums are constructed using three plies of oak on each side of a center ply of phenolic material, then hand-finished with traditional Japanese uzukuri for a uniquely beautiful appearance.
Here's Yamaha artist Satoshi Bandoh playing a Live Custom Hybrid Oak kit.
Poplar
Poplar is a relatively light, stiff and resonant tonewood that has a straight, uniform grain with a white or creamy yellow color. Due to this light hue, minerals soaked up from the ground sometimes create streaks of color through the wood, ranging from blue and green to red and yellow, giving it a striking appearance.
Poplar has been used for years in the construction of drum shells, both on its own or layered with other tonewoods. It yields a smooth, even tone with gentle highs and mids, along with a slightly boosted low end. Yamaha Rydeen Series drums feature six-ply poplar shells to achieve a warm tone with a good deal of bite as well as a great low end.
Wenge
Found primarily in Central Africa, wenge is an extremely hard, dense wood with a medium to dark brown color, coarse straight grain and black veins. Wenge produces a relatively bright tone and resonant low end, and it's used as the center ply in the construction of Yamaha Absolute Hybrid Maple drums.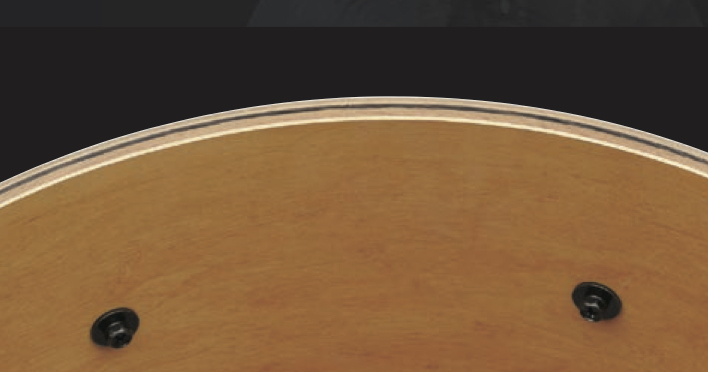 Jatoba
Also known as Brazilian cherry, jatoba is found primarily in Central America and is one of the most popular exotic woods. Jatoba heartwood (from the dense inner part of the tree) is extremely hard and varies in color from light orange/brown to dark red/brown. Positioned as the center (and hardest) ply in Yamaha PHX Series drums, jatoba helps increase projection and strengthens the fundamental tone of the drum. Here's Yamaha artist Moses Boyd playing a PHX Series drum kit.
Mahogany
A heavy wood with straight, fine grain, mahogany grows in Cuba, Honduras, Mexico and Africa, and is often used in the construction of musical instruments due to its resonant properties. When used to make drum shells, mahogany yields soft highs, a smooth midrange and a boomy low end.
Kapur
A reddish-brown hardwood that grows primarily in Malaysia and Indonesia, kapur has a straight grain and a hardness that's in-between maple and jatoba. Drum shells manufactured from kapur produce a good deal of boom with plenty of projection.
Hybrids
Yamaha PHX Series drums employ a unique shell configuration with plies of North American maple, kapur and jatoba. "The PHX shell has the hardest ply — the jatoba — at the center," says Anderson. "On either side are plies of kapur, then we use maple for the inside and outside plies of the shell. Jatoba is incredibly dense and serves to excite the adjacent layers, sort of the way dropping a stone in a lake causes the energy to ripple outward." The result is a shell that maximizes attack and sustain while providing plenty of projection and warmth.
As mentioned previously, wenge is used as the center ply in Yamaha Absolute Hybrid Maple drum shells. "Wenge is harder and more dense than maple, so it produces a brighter sound and a higher pitch compared to maple," Anderson explains. "It changes the tone versus a 100% maple shell. The very hard and dense center ply of the Absolute Hybrid Maple helps energize the drum shell chamber, increasing dynamic range, sensitivity, projection and volume. Basically, it takes that classic maple sound and bumps it up a few notches."
The shells for Yamaha Live Custom Hybrid Oak drums are constructed with a phenolic center ply — a type of resin. "Once we discovered how the core excites the adjacent layers," says Anderson, "we experimented with a phenolic sheet as the center ply, and it reacted in a similar way as using a jatoba or wenge core because the phenolic resin is very hard and very dense." This unique combination produces a drum shell with excellent projection and a balanced tone with bite.
Manufacturing Process
In addition to the tonewoods selected, the manufacturing process plays a critical role. Anderson explains the Yamaha method of making drum shells: "The veneer is kept at constant temperature and humidity to prevent delamination due to environmental changes (heat or humidity, for example), and we cut the veneer at a bias to ensure a perfect diagonal seam. The wood plies are cross-laminated for increased shell strength, and the seams are staggered around the shell so they don't overlap. We use an 'air seal' system where an air bag is dropped into the center of the mold and inflated, pushing outward against the interior of the shell and marrying those plies together. This guarantees a perfect cylinder with uniform pressure throughout the shell. The whole thing — under pressure — goes into a huge microwave oven that bakes the glue and dries it quickly, and that's how a Yamaha drum shell is born."
"We take the same care in the paint process," he adds, "using environmental chambers to test whether our paint recipes are going to last if they're exposed to extremely hot and humid environments or extremely cold and dry environments. We need to ensure that when our drums are purchased by someone — whether they live in Ontario, Canada or in the middle of Brazil — they arrive safely and will last a lifetime."
Want to hear a comparison between the sounds of these different tonewoods? Check out this video:
Click here for more information about Yamaha acoustic drums.