Characterized by the metal wires or "snares" stretched across the bottom head, the snare drum plays a large role in just about all genres of music, including pop, rock, metal, funk, hip hop, R&B, progressive, marching band, drumlines, orchestral and jazz. When used in popular styles of music, it's the snare that provides the backbeat on the 2 and 4; in orchestral and jazz pieces, the snare is used for color, accents and embellishments of musical phrases. Because it's the centerpiece of the modern drum kit, the snare drum is the starting point for beginning drummers, and it often serves as a showcase for advanced players demonstrating their technical skills.
As you might imagine, there are a huge variety of snare drums available. In this article, we'll look at the most common types and their applications.
Metal
Snare drums can be constructed from a variety of metals, the most popular being steel or stainless steel, aluminum and brass, followed closely by copper and bronze. Metal snare drum shells are constructed either by bending a flat metal sheet into a cylinder and welding the seam (so-called "welded" shells), or by spinning and heating a metal disk while pulling it over a cylindrical form ("spun" shells). The metal can also be melted and cast into a cylindrical mold, which is a very expensive process.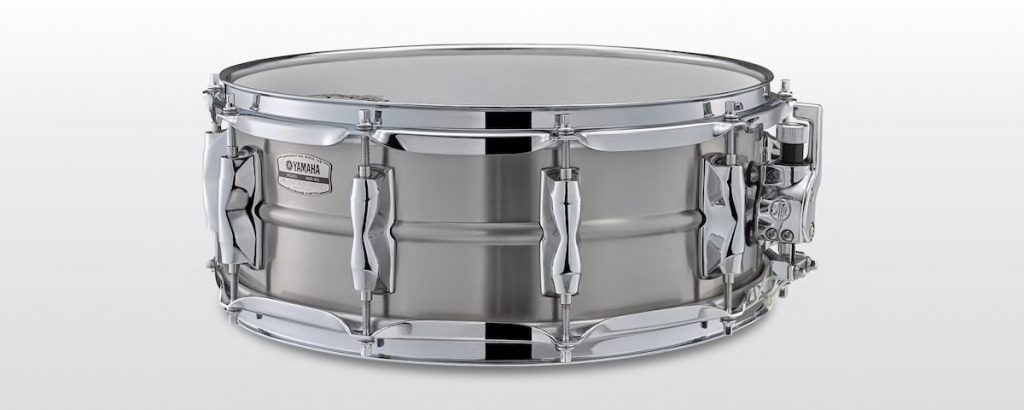 Each of these materials has a unique sound, but in general, metal snare drums produce a sharp "crack," a quick response, and a lot of overtones. Steel can produce bright, ringing overtones that require damping, while brass tends produce a rich tone with dark overtones. Metal snares in general have good projection, produce great rim shots (where you use a stick to simultaneously strike both the rim of the drum and the top head), and can easily cut through on loud stages, which is why they're a favorite for hard rock.
Metal snares, like all acoustic snare drums, can be tuned across a wide range, depending upon the player's preferences. Medium and high tunings generally project better while offering greater sensitivity and dynamic range. Low tunings are great for slow-paced songs like ballads, but can limit the dynamic range — meaning that you really have to smack the drum hard to make it speak.
Here's the sound of the Yamaha RRS-1465 Recording Custom brass snare drum at a medium tuning:
Metal snare drum shell depths range from five to eight inches, with 14 inches being the most popular diameter, though there are models with 13- and 15-inch diameters.
A classic example of a metal snare drum can be heard in Led Zeppelin's "Fool In The Rain."
Wood
Snare drums have been made from wood going as far back as the 1300s(!), when a drum called a tabor was used for communication purposes. Wood shells can be constructed by gluing together thin plies (layers) of wood, by steam-bending a solid board, or by gluing together wood blocks.
A wide variety of tonewoods are used to make snare drum shells, including maple, birch, oak, poplar and mahogany, as well as more exotic woods such as wenge, jatoba and kapur. Each of these woods has distinct sonic properties. For example, oak produces a low fundamental tone with bright highs, while maple has excellent balance between mids and highs, with a warm low end.
Here's an audio clip of the Yamaha LHS-1455 Live Custom Hybrid Oak snare drum at a medium tuning:
Multi-ply shells are most common because the direction of the grain can be alternated, producing a shell that is resonant, strong and stable. Multi-ply construction also enables a manufacturer to use layers of different types of wood to create a unique shell "recipe." For example, Yamaha Absolute Hybrid Maple snare drum shells have a center ply of wenge, surrounded by layers of maple. This yields a shell that has a wide dynamic range, great response and excellent projection.
Wood snare drums sound warm and fat, and tend to be a bit less ringy than metal snare drums. Sizes range from five to eight inches deep with diameters of 12 to 15 inches, with 14 inches being the most popular. Wood snares provide a wide range of tuning from a low "thwack" to a high crack and everything in-between, making them useful in a variety of musical situations. As with metal snare drums, the tuning of a wood snare will have an effect on not just its tone but also its dynamic range. (See the "Metal" section above.) Ringo Starr played a wood snare almost exclusively throughout his career with The Beatles. For a good example of his signature snare sound, check out the song "Get Back."
Marching
You've probably heard the distinct sound of marching snare drums in a drumline or as part of the marching band in a parade. The most common marching snare has a 14-inch diameter and is 12 inches deep, but diameters vary from 13 to 15 inches and depths range from 9 to 12 inches. Though quite large, marching snares are usually tuned very high, enabling drummers to play extremely precise complex rhythms and rudiments in an ensemble format.
The majority of marching snares employ wood shells, but unlike the snare drums used in drum kits, a marching snare may have retractable legs or suspension hardware that allows it to be held in place or attached to a carrier harness worn by the drummer.
Since they are often played outdoors or in large indoor spaces, marching snares are designed for precise articulation, maximum projection and durability. Marching snare wires are made from nylon or synthetic gut, which produces a dark, dry sound with less sustain than metal wires, and the snares may be independently adjustable. The shells may also have additional air vents for improved articulation and snare response.
Marching snares aren't often heard in popular music, but there are some notable exceptions including on the songs "Tusk" by Fleetwood Mac and "Lose My Breath" by Destiny's Child. Here's what a marching snare sounds like:
Piccolo
As the name implies, piccolo snare drums are characterized by their small size: 3 to 4 1/2 inches deep with diameters of 13 or 14 inches (though there are some models with a 12-inch diameter). Piccolo snares provide a high-pitched, sharp "pop" that easily cuts through a mix, and rim shots that have a nice "bark." They're often used as secondary or effects snares in a large kit (as used by Rush's late drummer Neil Peart, for example), but can also be used as the main snare in funk, pop, reggae or hip hop (as used by Yamaha artist David Garibaldi, best known for his work with Tower of Power). Piccolo snares can be made of metal or wood, but wood is generally the more popular choice.
Due to the reduced distance between the top and bottom heads, piccolo snares provide a fast response to quick stick patterns and ghost notes. They may ring quite a bit, but when properly tuned the ring can be musical, and the top head can always be damped to reduce the amount of ring. Here's what a piccolo snare sounds like:
Click here to listen to David Garibaldi playing his Yamaha Piccolo Signature snare with Tower of Power on the song "What Is Hip?"
Electronic
Whether used as part of a hybrid acoustic/electronic or all-electronic drum kit, an electronic snare drum is one of the most versatile instruments you'll ever encounter. A snare drum trigger pad such as the Yamaha XP80, combined with a Yamaha DTX-PRO electronic drum module, can provide a palette with hundreds of different real and electronic snares, as well as other instrument and non-instrument sounds.
An electronic snare gives you the ability to instantly recall different sounds, change tuning, or add effects such as reverb and delay. Some drum modules (like the DTX-PRO) can be used to sample (that is, record) your own snare drums, and the XP80 features multiple zones for playing rim shot and side stick sounds, which makes for realistic playing.
Electronic snare drums can be heard in all types of popular music. Two classic examples are the songs "Running Up That Hill" by Kate Bush, and "In The Air Tonight" by Phil Collins, which combines electronic drums with acoustic drums.
Check out this video of Yamaha Artist Larnell Lewis playing a Yamaha DTX10K-X electronic drum kit:
Here's a video that compares the individual sound characteristics of various Yamaha snare drums: