---
Tagged Under:
A Brief History of Yamaha Guitars
Decades of innovation and craftsmanship.
Yamaha guitars have captivated the ears of listeners and players for over 60 years. The company's wide range of acoustic and electric models remain ubiquitous in every kind of musical genre, from classical to folk to hard rock. Renowned for their playability and durability as well as their distinctive look and tonality, these guitars have been played by generations of musicians and have appeared on countless numbers of recordings and concert stages.
Let's take a look back at the decades of innovation and craftsmanship that have made Yamaha guitars a mainstay of modern music.
1966 – 1969
Yamaha entered the global guitar market in 1966 with the release of the FG180 folk guitar, which was developed using a proprietary design and engineered in-house. Its symmetrical dreadnought-style body featured slightly emphasized cutaways, resulting in  a rich, bright tone and excellent sound projection. This was one LOUD guitar!
That same year saw the introduction of the company's first electric models: the SG-3 and SG-2 (the latter was used extensively by guitarist Link Wray), which featured custom-designed pickups, bridge and whammy bar, with a retro-futuristic look that seemed to embody the era of surf music.
Spanish guitar maker Eduardo Ferrer, who studied under Spanish master Antonio de Torres, would visit Yamaha headquarters in Hamamatsu, Japan in 1966. Before the end of the decade, the company would unveil its first classical (GC5/7/10) and flamenco acoustic guitars (GC Series) — crafted by luthiers with training from Ferrer — along with its first semi-hollow-body electric models (the SA-50 and SA-15).
1970 – 1979
During the first half of the 1970s, Yamaha expanded its acoustic offerings. Two 6-string folk guitar models (the FG-1500 and FG-2000) and a 12-string variant (the FG-2500) arrived in 1971, combining old-world build quality with modern specs and superior materials such as solid spruce tops and solid jacaranda backs and sides.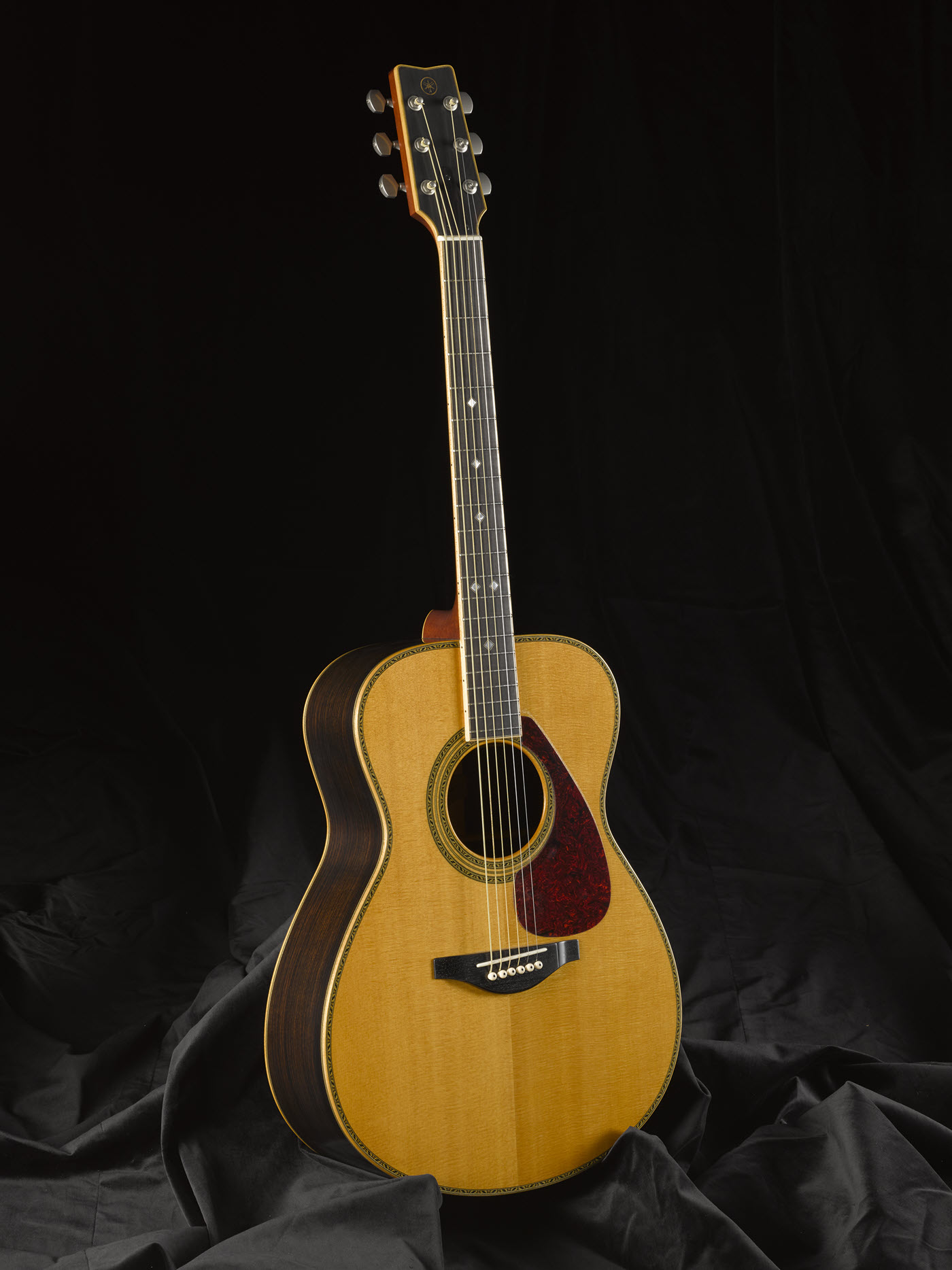 A line of L Series acoustics ("L" for "luxury") followed in 1974. These high-end guitars were characterized by their sustain and balanced highs and lows. The GC-30 custom classical guitar, utilizing the design techniques of Spanish guitar-making auteur Manuel Hernandez, was also released that same year.
As Yamaha cemented its place in the acoustic market, it also perfected its electric guitars. It was 1974's SG-175 that laid the groundwork for the SG Series, which would remain popular for decades. Famously, Yamaha built a custom SG-175 for guitar legend Carlos Santana. This was his main instrument throughout the 1970s.
The SG-175 evolved into the beloved SG-1000 and SG-2000 models in 1976. The latter's neck-through structure, sustain plate and semi-open humbucker pickup applied new innovations and technologies that would come to define the SG Series. Numerous electric models would be introduced soon after, including the SF-700, SC-1200, SA-2000 semi-hollow-body and SJ-800.
Another highlight of the decade was the company's first full hollow-body electric model, the AE-2000. Arriving in 1978, the instrument was embraced by many leading jazz guitarists of the era thanks to its warm tonality and remarkable specs that included a carved solid spruce top, set maple neck, African Blackwood bridge and 20-fret bound ebony fingerboard with diagonally-split block inlays.
1980 – 1989
The music industry shifted towards digital and synthesized sounds throughout the '80s. As trends changed during that decade of flashy glam and excess, so too did the instruments. The futuristic Yamaha SF-7000 electric, for example, offered different bridges for each model, giving players multiple options depending on their playing style.
On the acoustic side, the company's GC-70/71 classical models maintained tried-and-true design philosophies while updating to 1980s standards, thanks to input from players around the world.
And then there was the eminently shreddable RGX-1212, introduced in 1986. Its sharp angles and 3D headstock capture the glory days of heavy metal, proving that Yamaha could also realize a thoroughly modern guitar.
Another innovation came in 1987 with the APX line of electric-acoustic guitars, which boasted hexaphonic piezo pickups that offered a separate pickup for each string, along with preamp switches that allowed for multiple output settings (mono or two different stereo options). The instrument's smaller body also reduced the possibility of onstage feedback during live performance.
1990 – 1999
Having long since established its presence in the guitar market, Yamaha continued to flex its creativity in the 1990s. The PACIFICA 912 electric guitar, for example, was originally developed in 1990 in partnership with the company's Los Angeles custom shop, designed to meet the needs of top session players. However, it (along with the entire PACIFICA line that followed) soon became a popular choice for both entry-level and advanced players — a popularity that continues to this very day.
2000 – Present
At the turn of the new century, Yamaha released one of their most experimental instruments: the SLG-100N SILENT Guitar™, precursor to today's line of SLG-200 Series instruments. Its ghostly, minimalistic design (like a guitar without a body) delivered ultra-quiet results, allowing players to practice anywhere without disturbing others.
This proved to be a harbinger of things to come, as Yamaha guitar technology continued to advance by leaps and bounds. The SRT (Studio Response Technology) system introduced in 2010 revolutionized acoustic guitar pickup design, rendering a studio-like sound, as if the guitar is being recorded by a vintage condenser mic. As implemented by the current second-generation SRT2 systems incorporated in today's A5 Series and LL Series guitars, controls allow the user to switch between two microphone types, as well as blend between the piezo pickup and digital mic modeling.
In 2016, Yamaha unveiled what is arguably one of the most significant acoustic guitar innovations of all time: TransAcoustic technology, which enables the creation of authentic reverb and chorus effects inside the instrument itself, without the need for any external amplification or effects devices. First implemented in the LL-TA and LS-TA models, today's lineup of TransAcoustic guitars includes a wide array of instruments in different sizes and shapes, including a classical nylon-string model, the CG-TA.
In 2019, Yamaha introduced a new pickup/preamp system called Atmosfeel™, comprised of a piezo sensor, a mini-microphone and a unique synthetic sheet transducer. The piezo picks up the low frequency sounds where the strings meet the bridge, while the sheet transducer picks up the higher-frequency vibrations of the top soundboard, and the mini-mic picks up the resonance inside the body. The three signals can then be custom-blended together to provide a full representation of an acoustic guitar's natural tone. Atmosfeel technology was first implemented in selected Yamaha FG Red Label steel-string guitars and has since been incorporated into the company's upgraded NCX and NTX series of nylon-string acoustics.
The music world — and, by extension, the tastes and styles of guitarists — is constantly in flux. Yet for more than half a century, Yamaha guitars have retained their prestige thanks to the diligence of designers, builders, developers and the feedback of players. From the first FG180 folk guitar to the latest TransAcoustic models, Yamaha continues to pave the way.
Check out these related blog articles:
Step Up to a Better Acoustic Guitar
Discover Yamaha TransAcoustic Guitars
Which TransAcoustic Guitar Is Right for Me?
Atmosfeel: The Next Generation of Yamaha Acoustic Guitar Pickups
Atmosfeel Technology Comes to the Nylon-String Guitar
Click here for more information about Yamaha guitars.